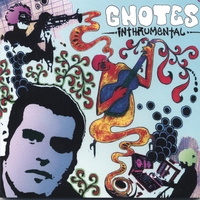 Ryan Wade: plays well with others
By Canyon Cody
Published in
The Heights
When Gnotes, aka Sean Dwyer finished the music for his new album
Inthrumental
, he asked Ryan Wade, BC '05, to design a cover that matched the album's unique sound of joyous instrumental hip-hop. "Before I even saw [Wade's] design, I knew I would love it. I sent him the album and just a few days later he sent it back with the music converted to paint," explained Gnotes.
Any artist with a major in studio arts can paint a pretty picture, but Wade has the unique ability to interpolate music and visually adapt the sound for the cover art. Since graduating he has designed the artwork for two albums and a DVD cover, and hopes to continue working with musicians and filmmakers in the future.
Like most young boys, Wade enjoyed drawing dinosaurs, trucks, and comic book superheroes, but didn't seriously consider art as a career until college. "Instead of watching TV in my dorm room, I'd just go mess around in the art studio," he said. He cites Art Nouveau, Rick Griffin, and Paul "Diddy" Hughes as his biggest art influences and currently works primarily in watercolor and graffiti stenciling.
Earlier this year, director Francisco Saco asked Wade to design the cover for his new skate film, Distant. Wade's colorful cover reflects the fluid, dynamic cinematography of the film, which features stunning shots of amateur skaters in different countries around the world.
"There's no better way to get to know a city or town, and all its local flavors, than on a skateboard. Just rolling down the streets and looking all around you. Seeing what there is all around you. It's the best way to travel, best way to meet people," said Saco.
The soundtrack alone is worth the price of admission, featuring Blockhead, Talking Head, Warren Zevon, and more. The music and cinematography are first-rate, but I don't know a thing about skateboarding, so I sent the film to my little brother, who is a connoisseur of fine skate cinema.
Here is my brother's review of the film:
"My name is Sunny White, age 10 in fifth grade and I am reviewing the skate video, A Journey through the Lens. Some of the things that I thought were cool were that the producer went around skating with friends and videotaping local skaters from Boston, Costa Rica, Spain, Japan, France, and Holland.
"Another thing I liked was how creative they got with the cover of the DVD. I thought the skating in the video was really good. I thought it was cool how they showed how all the skaters fell. I liked how they had skaters from different levels, some good and some not so good. I liked how they used the negative image in some of the video.
"I think this is one of my favorite skate videos that I have seen."
Like my brother, Saco has been skateboarding since he was a kid and one day decided to bring his video camera along to film his friends' tricks. "At first, I wasn't doing anything coherent, just filming," he admits. Then he brought his camera and his skateboard to Europe and filmed sessions in Madrid, Cannes, and Amersterdam. "That's where I got the idea to make an 'around the world' skate video," explains Saco.
Saco is currently finishing his second film, Tortilla Flats, based on a Mexican immigrant who faces racial tension and classism while working at a burrito restaurant.
Last year, a group of BC students recorded an album of spoken-word poetry and asked Wade to design the artwork. Myran Hunter, Martine Russell, Noah Dixon, and Sean Dwyer called themselves the Dorm Room Griots because the album was recorded entirely on campus. Keeping with the spirit of independent, locally produced music, the album's art was designed by Wade and fellow senior studio art major Ian Greenwalt. Hunter, now a high school English teacher in Washington DC, reflected on his experience with the album and the importance of Wade's art:
"Working on the Flow From Above was a huge accomplishment for many individuals. It was truly amazing to see a group of college students come together in the most humble and meager of means inside a small, cluttered bedroom of a dorm and construct a piece of work that resonated so many ideas, styles, thoughts, and passions. Seeing the artwork done for the album really solidified the whole experience. No longer was it something that was talked about, it evolved from an abstract concept into a concrete piece of artwork filled with an abundance of expression and life. It was an excellent project that allowed the artists involved, including myself, to truly set themselves free."
Wade recently started a silk-screening company in order to sell his art on T-shirts and hoodies. Anyone interested in custom orders can reach Wade at BornToBeRad@gmail.com or see of his artwork at
Gnawledge.com